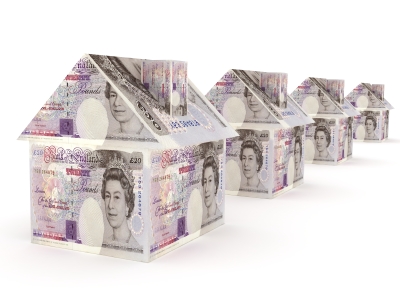 New research has identified chain-free hotspots where up to 61% of homes sell to a cash buyer.
Property purchasing specialist, House Buyer Bureau, has revealed the areas of the property market where home sellers have the best chance of securing a chain-free transaction, with as many as 61% of all properties sold over the last year having been purchased by a cash buyer.
The property market has been cooling in recent months, but while house prices have only shown marginal signs of decline, the biggest challenge facing today's sellers is the ability to find a buyer in a position to proceed.
This heightened market uncertainty and the increasing cost of borrowing is causing many transactions to collapse. But there is one way to sidestep this market bottleneck and that's by finding a buyer with no onward chain.
It's for this reason that first-time buyers are often the preferred choice of many sellers and analysis of Halifax data by House Buyer Bureau shows that you have the best chance of finding one in the South East. Last year, 21% of all first-time buyer purchases were located within the region, with London (14%) and the North West (11%) also home to some of the highest levels of first-time buyer activity.
However, despite offering the chance of a chain-free transaction, many first-time buyers are also struggling with the increased cost of borrowing due to higher mortgage rates. Therefore, in the current market cash buyers are proving the golden egg when maximising your chances of a smooth and certain sale.
With money sitting in the bank, a cash buyer not only removes the dreaded chain from the equation but there is no reliance on third parties when it comes to the provision of funds.
Further analysis of government data by House Buyer Bureau shows that over the last 12 months, 31% of all homes sold across Britain were purchased by cash buyers.
However, in East Lindsey, this percentage climbs as high as 61%, making it the best area of the market for sellers to secure a chain-free, stress-free sale.
North Norfolk also ranks high in this respect, with cash buyers accounting for 60% of all homes purchased over the last year.
Other areas to make the top 10 include West Devon (56%), the City of London (55%), Argyll and Bute (54%), Ceredigion (54%), East Devon (53%), Torridge (53%), Powys (52%) and Kensington and Chelsea (52%).
In contrast, you have the slimmest chance of securing a cash buyer in Barking and Dagenham, where they accounted for just 8% of all homes sold over the last 12 months.
Managing Director of House Buyer Bureau, Chris Hodgkinson, commented: "A chain-free transaction has always been the best way to tackle the otherwise uncertain task of selling a home. But it's fair to say that in the current market, the appeal has never been greater.
"A consistent string of interest rate hikes has cultivated a great deal of uncertainty in recent months, with many buyers not knowing where they stand from one week to the next when it comes to their borrowing ability.
"As a result, buyer demand levels have fallen, chain breaks have become all too common and transaction timelines have increased, factors that only increase the level of stress and financial strain felt by those attempting to sell.
"While first-time buyers offer a greater degree of certainty, it's cash buyers who hold the strongest position in the current market. The good news is that, as our research shows, they are extremely active in many pockets of the nation.
"The compromise, of course, is that you will have to throw them a bone in the form of a reduction in asking price. However, for the majority of sellers, this is a fair trade if it means getting their sale over the line in a continuously cooling market."