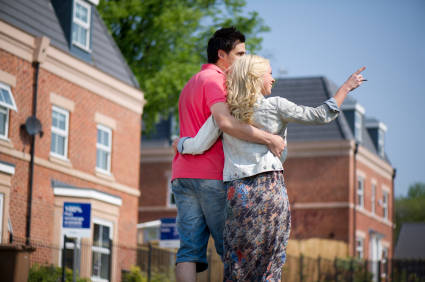 Data and analysis from AmTrust has revealed improvements for first-time-buyers with smaller deposits as average interest rates fell slightly and the average first-time buyer house price stayed level.
The Bank of England's Monetary Policy Committee (MPC) increased Bank Base Rate (BBR) in November last year however, while average products rates for 75% loan to value (LTV) mortgages did increase by close to the full 25 basis points, those for 95% LTV mortgages edged down.
December's Autumn Statement also saw stamp duty cut completely for first-timer buyers up to a threshold of £300k, and AmTrust believe lenders might be responding to this news by keeping rates for low-deposit borrowers down in order to benefit from any greater interest in purchasing from first-time buyers.
However the AmTrust Mortgage LTV Tracker continues to show that, while the rate differential between 75% and 95% LTV mortgages has narrowed, those with small deposits are still continuing to pay on average two-thirds more for their mortgage products annually, than those who have been able to put down a 25% deposit. A recurring theme of all LTV Trackers throughout 2017.
Alongside these far greater costs of servicing a mortgage, product choice for 95% LTV borrowers is 'patchy' with some notable fluctuations in the number of products available, depending on the loan required and house purchase price.
The AmTrust Mortgage LTV Tracker reviews the average monthly mortgage payments for first-time buyers on average loan levels, comparing loans for those with a 5% deposit to those with 25%, and looks at the product availability for first-timers.
Average fixed-rates for 95% LTV mortgages, according to Bank of England data, continued to fall at the tail end of the year, dipping below 4% for the first time since March 2017. Conversely, average rates for 75% LTV mortgages rose to 1.62% - their highest level since August 2016 – with lenders appearing to have raised rates prior to the MPC's decision with the average rate up from 1.4% in September, to 1.55% in November, and then 1.62% in November.
AmTrust's research reveals that the average loan required by first-time buyers has gone up very slightly since the last quarterly tracker in September – up to £122,860 for those with a 25% deposit, and £155,622 for those with a 5% deposit.
With average rates of 1.62% for 75% LTV loans, and 3.96% for 95% loans this means high LTV first-time buyers will still pay 68.3% more than those with bigger deposits - £5,976 per year compared to £9,816.
AmTrust believes the cut to stamp duty for first-time buyers may well feed through into higher house prices – latest figures from the Halifax reveal that the price of an average UK house rose a significant 3.8% between June and November last year. Latest figures for November reveal that the average house price is £226,821, up from £218,390 in June.
Even if the trend for 95% LTV mortgage pricing continues to inch down, this increase in house prices will still mean mortgage costs remaining high and AmTrust believes any stamp duty saving might well be added to the offers first-timers have to make in order to secure the homes they want.
The likelihood remains that, as house prices continue to move upwards, first-timers will need to find both bigger deposits and take out larger loans in order to get onto the property ladder.
Product numbers fluctuate – dependent on loan required and cost of home
This iteration of the AmTrust LTV survey continues to review the number of actual product options available to first-time buyers with either a 5% or 25% deposit based on the price of an average first-time buyer house, the price of an average house as outlined by the November 2017 Halifax House Price Index, and the price of a house at the top of the first tier of stamp duty land tax. In order to do this, AmTrust uses one of the online mortgage search engines which include deals available to both mortgage advisers and direct-only.
Even though first-timers are now immune from stamp duty costs, for homes up to a value of £300k, AmTrust has maintained its look at product availability for those seeking to purchase at £250k in order to review how this changes as house prices increase.
The latest research revealed that there has been a further fluctuation in product choice – this time for those wanting to purchase a home at the value of Halifax's average UK house price (£226,821), with a significant dip in product numbers, previously not seen.
In previous iterations of the LTV Tracker, product numbers were incredibly low for those wanting loans for properties priced at the average first-time buyer level but with only a 5% deposit to put down. In this iteration however, loans for properties priced at £163,813 have grown significantly – up from just one product to 66 for two-year deals, and from six to 164 for those willing to look at a range of terms.
The big drop has come for those wanting larger loans with smaller deposits, perhaps showing that lenders are less likely to provide larger mortgages to those first-timers who only have a 5% deposit available to them and want to purchase a higher-priced property.
Product choice however for those wanting 95% LTV loans is still incredibly small across the board compared to those first-time buyers who are able to find a 25% deposit. Hundreds, if not thousands, of products are available to such borrowers. AmTrust believes lenders continue to aim the bulk of their first-time buyer product range at those with larger deposits.