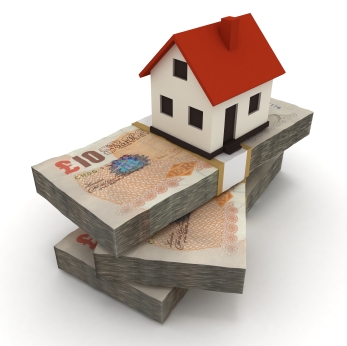 The average tenant is now required to spend 64% of a typical month's income just to cover tenancy deposit costs, according to newly released figures.
Zero Deposit has measured average monthly earnings (net) against the current average price of an up-front tenancy deposit, revealing what proportion of income is required simply to secure a spot in the rental sector.
Average rental deposit now £1,434
The data shows that the average monthly rent in the UK is now £1,243 per month. This means the average tenancy deposit now sits at £1,434, based on the common requirement that a deposit is set at the value of up to five weeks rent.
At the same time, the average UK person takes home £2,228 per month (net). As a result, the average renter has to spend 64% of a single month's income just to pay their tenancy deposit when moving into a new rental home.
From then on, they need to spend 56% of their income every month just to cover the cost of their rent. Due to the pace of the rental market, this cost is often required within the same month meaning the average UK tenant is facing a total cost of £2,677 to secure a rental property, the equivalent of 120% of the average net monthly income (1.2 x income).
Rental gender pay gap
Because there remains a significant gender pay gap in the UK, the proportion of income being spent on deposits and rent is higher for women than it is for men,
The average monthly income for a UK male is currently £2,590. This means they require 55% of monthly income to cover the cost of a rental deposit, up 3% in the last year. Once they do secure a rental property, 48% of monthly income is required every following month to cover rent, a 2% increase in the last year.
Women, however, have a lower comparable income, averaging £1,858 per month. This means 77% is required to cover the average rental deposit, which also marks a 3% annual increase. 67% of their monthly earnings are then required to cover the cost of renting, which is also 3% more than was required just a year ago.
Rental affordability by profession
Further analysis by Zero Deposit shows that cleaners, hairdressers, and chefs are the worst-hit professions when it comes to rental market affordability.
The average cleaner's income is £969 per month which means the average tenancy deposit comes in at 148% of a single month's pay, while the cost of renting sits at 128% of their monthly earnings
For hairdressers, with an average monthly income of £1,103, a rental deposit equates to 130% of their monthly income, with rent requiring 113%.
And chefs, who earn an average of £1,500, are paying 96% of a full month's earnings to place a deposit and 83% for rent each month thereafter.
Other professions facing an uphill struggle include secretaries, estate agents, nurses, marketing professionals, IT workers, plumbers, electricians and teachers, all of whom are required to spend more than 50% of their monthly earnings just to place a rental deposit.
Even high earners such as pilots (34%), doctors (36%) and lawyers (40%) would have to spend over a third of their monthly income on a rental deposit, highlighting that it presents a considerable barrier at all levels of the pay scale.
Sam Reynolds, CEO of Zero Deposit commented: "Renters up and down the country are facing an incredible financial challenge at the moment, especially those with lower incomes who are undoubtedly struggling with the high cost of living. But this is a challenge for the majority of renters, with little hope of improvement in 2023 without urgent Government intervention.
"High demand for rental properties means it's a task in itself to find a suitable property and, once you have, there is the sizable upfront cost of a tenancy deposit to contend with. This is made all the worse by the fact that many have to pay up before receiving their previous rental deposit back.
"This simply isn't financially viable for the average tenant and, as a result, many are unable to move at the pace that the current rental market requires, leaving them in a cycle of being stuck in a property they are keen to leave, forced to borrow to find the deposit or effectively out in the cold and without a home."