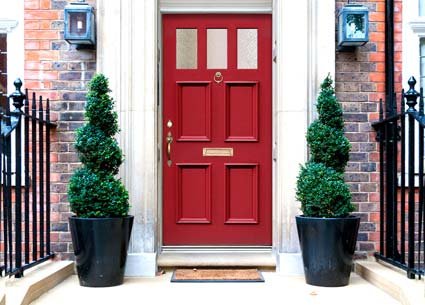 Boosting your property's kerb appeal has long been regarded as one the most effective ways of making a good first impression and, in particular, when selling your home, key to influencing the buying decision. If your home looks attractive and well-maintained from the outside, it's much more appealing to the potential buyer.
One of the first things we tend to focus on when we first look at a property is the front door. In terms of kerb appeal, the front door is vital, but just how much of an impact does its colour have on a property's value?
According to a new study, conducted by window and door retailer Safestyle, properties with red doors sell at a higher average price than any other door colour.
The data showed that properties with these bold front doors sell for the highest average value (£413,279), 36% more than the national house price average (£290,003).
Red - £413,279 +36% more than the average
Grey - £353,589 +20% more than the average
Black - £322,072 +11% more than the average
Blue - £295,667 +2% more than the average
White - £291,507 +1% more than the average
There do appear to be some regional differences; in Newcastle, houses with sage green doors proved to be the most lucrative, selling for approximately 16% more than the average house price in the region. Meanwhile, if you live in Liverpool, houses with navy blue front doors proved to sell for more, in Leeds grey and in Cardiff, black.
While in Manchester, properties with red doors were found to be worth approximately 60% more than the average price of properties in the city, perhaps alluding to the popularity of a certain football club?
In the last year, dark grey doors accounted for 34% of Safestyle's overall door sales, followed closely by black doors (17%) and slate grey doors (8%). While these classic colours do appear in the top three, properties with red doors tend to sell at the highest average price.
Safestyle has partnered with James Smith, a property expert from estate agents, Richardson and Smith who shares his tips on ways to add value through your home's exterior.
James says: "When buyers view a property for the first time, initial thoughts are typically based on the appearance of the exterior of the property, the location and any potential scope for an extension or loft conversion.
"Of course, location is always important but the condition of a property and value for money are a high priority for buyers too.
"As exterior shots of a property are often the first image a potential buyer will see on an online listing, it's important to think about your front door design as well as the wider exterior of your property to drive in-person viewings and the likelihood of a higher asking price.
"Whether you have a new build or a period property, we often find that coloured front doors in bold, striking shades such as red or black help to improve kerb appeal as they create a stronger first impression and add stylistic features to a property.
"But there are some additional things to think about if you are priming your property for sale. For example, to add to the sleek design of your front door it is also important to consider accessories such as the door handle, letterbox, matching house number and a doorbell.
"For other ways to improve your kerb appeal on a budget, think about cleaning your windows, and gutters and tidying your drive. These small touches will all help to add value."