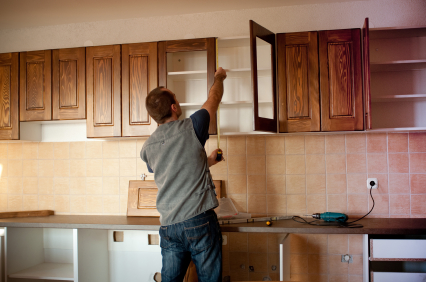 When styling your Buy-to-Let one of the most important aspects is the kitchen. The quintessential hub of the home - be that for young professionals needing a work from home space or thriving families which need a living/homework area.
There's simply no compromising on a great kitchen.
The first step to delivering a space that works for your potential tenant is to really dig down and find out who you want to rent to. If it's a young professional, then consider things like a coffee machine and lots of sockets. Smart tech will be a given and will instantly up the ante in terms of the clients you'll be attracting.
For a family, it has to be about storage. The more the better and of varied sizes and shapes. If there's space for a utility room or pantry, take it. These simple extras, which can often easily be fitted into a small side extension can add a hefty amount to a property's value and be a huge rental attraction. These obviously all come with a cost, but thankfully it doesn't mean blowing the budget.
By buying a second hand or ex-display kitchen you can easily add on all those bells and whistles which come with having a great, solid, high-end kitchen. By saving on the 'bones' of the kitchen, it means that you can spend more on the electrics and appliances, although many used and ex-display kitchens come with a comprehensive appliance package, worktops and finishes. Check out The Used Kitchen Company which have 100s of used and ex-display kitchens on their website, all hugely reduced. They sell nationwide and have new kitchens coming in almost daily.
Will you be renting the property for the foreseeable future, or do you have plans to potentially sell it in a few years' time? If the latter, it's well worth considering the quality of the kitchen you install and the added space you create. Solid wooden painted kitchens are a great choice here. They last, can easily be refinished or updated with a clean lick of paint and new hardware and never go out of style. Quartz, Corian, granite or ceramic worktops are most popular when creating a luxury feel to your kitchen
The overall key with all of this is research. Check out newly designed show homes, see what's in the latest issues of the kitchen magazines, look online for colour of the year and kitchen styles and see how you can incorporate elements of those into your property flip. Knowing your audience is key and can mean the difference between your property renting quickly, or being sat on the agent's books for months, and no one wants an empty property on their hands!
We can't ignore sustainability when it comes to renovating. There's no doubt that the property industry can be a wasteful one, with many kitchens and furnishings being ripped out and simply sent to landfills. Thankfully, this doesn't have to be the case, buying and selling kitchens through The Used Kitchen Company not only adds cash to your property pot but also saves tonnes of waste from landfill.