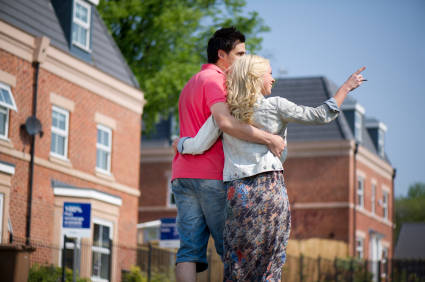 UK first-time buyers were out in force at the start of the year with both applications and market share seeing an increase in numbers, likely driven by more homes on the market and falling house prices, according to CACI data analysed by first direct.
"It's particularly encouraging to see first-time buyer applications – crucial to a vibrant housing market – reach their highest volumes since October"
January sees a rise in first-time buyer mortgage applications across the UK market
First-time buyer mortgage applications saw an 18% rise compared to December 2022, the most significant rise since September last year.
Analysis by first direct showed that the volume of first-time buyer applications (total market) rose from 17,704 in December to 20,845 in January. FTBs accounted for 34% of total mortgage applications in January. The value of applications for January was around £4 billion, up from £3.5 billion the month before, an increase of 17% - showing a small dip in the average value of the loan month-on-month.
Despite this growth in the first month of the year, the FTB market was down year-on-year compared to January 2022 – where application volumes were at 31,308, totalling a value of £6.4 billion.
Carl Watchorn, head of mortgages at first direct, noted: "It's promising to see an uptick in the mortgage application market overall after a quiet quarter, with overall applications passing the £12 billion mark for the first time since October 2022.
"It's particularly encouraging to see first-time buyer applications – crucial to a vibrant housing market – reach their highest volumes since October. These are still relatively small numbers compared to some of the peaks we saw last year, but an upwards trend nonetheless."
Average FTB loan value down year-on-year
The average first-time buyer loan was £194,582 as of the end of January, down from £203,919 this time last year. The average value of a first-time-buyer loan application had been on a slow and steady upwards trajectory up to last summer, reaching its peak in May 2022 at £216,602.
The current value of the average FTB application is lower than the average home mover's (currently £241,129), which also reached a peak during the same May/June period where it reached £277,811. This is in contrast to the slightly lower average value of remortgage applications, currently at £202,500.
Carl added: "The reduction in average loan size for first-time buyers will be influenced by a number of factors. For some, cost of living pressures may be resulting in customers having neither the appetite nor ability to borrow amounts as high as previously they may have. For others, the recently seen trend of falling house prices may mean some customers require lower levels of borrowing to take those first steps onto the housing ladder.
"Last year, we saw a large increase in average loan value between January and February, so it'll be interesting to see if we see a similar uptick this year."
Surge in first-time buyer market share in the last quarter compared to the previous quarter
The first-time buyer market typically occupies a slightly smaller share of the total market than re-mortgages and home movers, due to the smaller value of average loan applications.
However, the last quarter saw a spike in first-time buyer market value share, standing at 32% in January and at 31% the two months prior. This is in contrast to the three months prior, where the market share went from 30% in August to 29% in September and 27% in October.
January 2023 was the first time FTB apps narrowly overtook home movers in a two-year period, where the latter had a 31% market share.