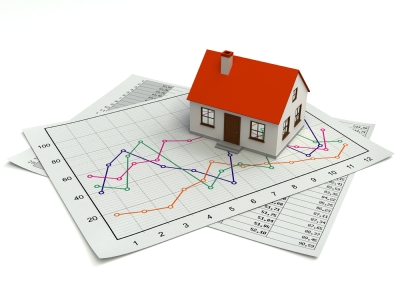 Average house prices dipped slightly in September to £293,835 from their record high of £293,992 the previous month. This, alongside a growing number of regions that have seen annual house price inflation fall to single-digit levels, may be the clearest indication yet that the market is beginning to correct, according to this morning's data released by Halifax.
Nations and regions' house prices
Halifax figures have revealed that there are now four UK nations and regions which have seen annual house price inflation fall to single-digit levels: Eastern England, Greater London, the North East and Scotland. Perhaps more notably, 11 out of 12 areas recorded slower growth than in August (the exception being the North East).
Wales, however, remains at to the top of the table for annual house price inflation with a rate of +14.8%, although this too is down from
the previous month (15.8%), and an average property cost of £224,490.
The West Midlands has now overtaken the South West to record the strongest rate of annual growth in England, with house prices rising by +13.3% over the last year, down slightly from +13.5% in August. In cash terms, prices have risen by £30,000 over that period, with an average property now costing £255,822.
The pace of annual house price growth in Northern Ireland eased back further last month to +10.9% from +12.5%, with a typical home now costing £184,570.
Scotland also saw a further slowdown in the rate of annual house price inflation, to +8.5% from +9.3%. A Scottish home now costs an average of £204,305, largely unchanged from the previous month.
London still has the slowest rate of annual growth amongst the UK nations and regions, with house prices rising by +8.1% over the last year. Though with a typical home costing £553,849 the capital's average property price remains by far the most expensive in the country.
Kim Kinnaird, Director, Halifax Mortgages, comments: "The average UK house price experienced a slight fall in September (-0.1%), the second marginal decrease over the past three months. The cost of a typical home edged down a little to £293,835 from the previous month's record high (£293,992). The pace of annual growth also slowed for the third month in a row, to +9.9% from +11.4%, returning to single digits for the first time since January.
"The events of the last few weeks have led to greater economic uncertainty, however in reality house prices have been largely flat since June, up by around £250. This compares to a rise of more than £10,000 during the previous quarter, suggesting the housing market may have already entered a more sustained period of slower growth.
"Predicting what happens next means making sense of the many variables now at play, and the housing market has consistently defied expectations in recent times. While stamp duty cuts, the short supply of homes for sale and a strong labour market all support house prices, the prospect of interest rates continuing to rise sharply amid the cost of living squeeze, plus the impact in recent weeks of higher mortgage borrowing costs on affordability, are likely to exert more significant downward pressure on house prices in the months ahead.
"This will undoubtedly be a cause of some concern for homeowners, but the unprecedented rate of property price inflation we've seen in recent years has been far above the historic average. It's important to look at slower growth in this context – since the start of the pandemic average property values have risen by around +23% (almost £55,000) with detached house prices up by more than £100,000 over the same period."