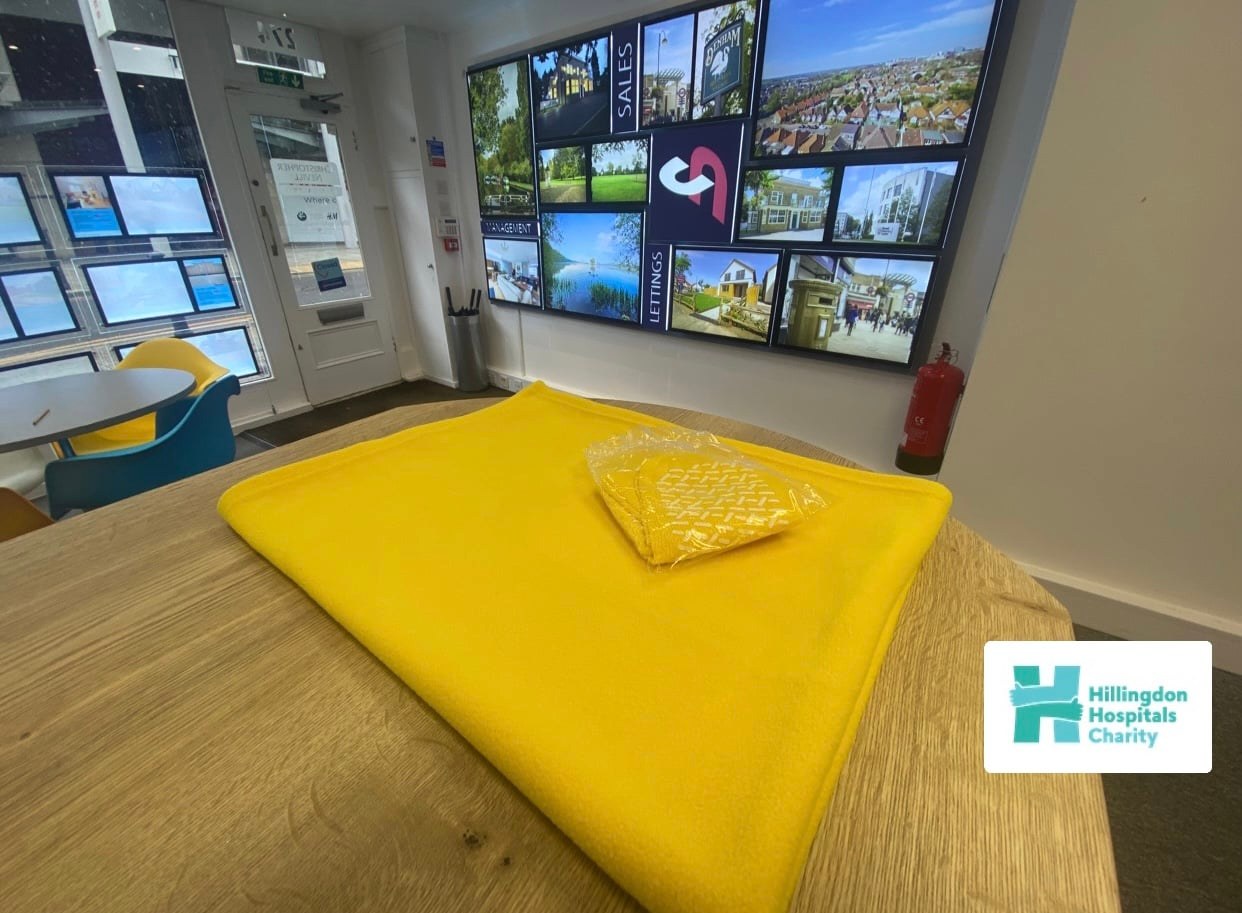 Christopher Nevill have created an exciting partnership with Hillingdon Hospitals Charity to help vulnerable patients being cared for in Hillingdon Hospital.
We aim to provide 500 Yellow Fall Prevention kits together with yellow wrist bands and yellow magnets.
We aim to raise £2,250 to purchase 500 complete kits.
Falls and fractures in older people are a costly and, often preventable, health issue.

Reducing falls and fractures is important for maintaining health, well-being and independence amongst older people.
Having a fall can happen to anyone; it is unfortunate but, unfortunately, fairly common. As people get older, they are more likely to fall over. Falls can become recurrent and result in injuries including head injuries and hip fractures.
The likelihood and severity of injury resulting from a fall is often related to bone health. People with low bone mineral density are more likely to experience a fracture following a fall. One of the main reasons why people have low bone mineral density is osteoporosis.
Over 3 million people in the UK have osteoporosis and they are at much greater risk of fragility fractures. Hip fractures alone account for 1.8 million hospital bed days and £1.9 Billion in hospital costs every year, excluding the high cost of social care.
'Think Yellow Fall Prevention Kit'
This is a special blanket and a pair of slipper socks that are offered to patients who are deemed to be very high risk of falls and unable to recognise their own risk.
It is a visual aid to ward staff, multidisciplinary teams and anyone who visits the ward so that extra caution can be applied to the management of these patients.
The aim is to reduce the number of falls for these patients - most importantly reducing the risk of falls with harm.
Donations can be made at our special go fund me page https://gofund.me/20851da1
As well as supporting a great cause, every £5 donation will qualify the donor to a free entry in a raffle with five great prizes which have been donated by local businesses.
Apple iPad 2021 10.2" 64GB Space Grey donated by Christopher Nevill
Professional photo session worth £225 with Sophie Goffin
£50 red Iron Burgers gift voucher
£20 Harry's chip shop gift voucher
Rose Bear handmade by SJ Crafts
The draw will take place on April 29th so please dig deep and support this great cause.