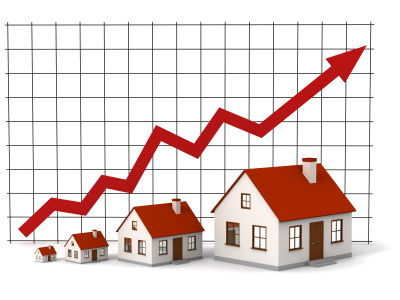 The average UK rent price has hit a record high for the third month in a row, according to the latest data from HomeLet.
The average rent in the UK has risen to £1,053, up 6.9% on the same time last year, and up 2.3% from the previous month's figures.
There are signs of recovery in London, which sees another price rise after a year of decline, with an annual variance increase of 3.6% to £1,713pcm. The monthly rise of 4.1% is steeper than any other area of the country.
Excluding London, the average UK rent price is up to £892pcm, up 8.1% year-on-year.
Wales has seen the highest annual rise. The average rent is now 12.8% higher than this time last year, up to £723pcm.
Elsewhere, every single region saw a yearly price rise, with Northern Ireland the only area not to see a monthly rise, staying at an average of £704pcm.
Rob Wishart, head of business intelligence at HomeLet, said: "Typically, rents for new tenancies will rise in line with the rate of inflation, but that's not been the case in the past few months. The demand for housing and certain property types is outstripping supply in many areas, causing upward pressure on rental prices. We can expect the increase in rents to continue for the foreseeable future, with many regions now seeing unprecedented demand for housing stock and landlords.
"In the capital, we have seen yet another price rise, and we may see London accelerate at a faster rate than the rest of the country in the coming months, as international travel ramps up and rates of working from home move in the opposite direction."
"We've seen record levels of new customers this year. As our group expands, so does the level of insight that we can provide for our customers, processing over 1m tenant references a year; we'll continue to monitor the market closely."
"On the whole, the private rented market has been exceptionally resilient throughout the pandemic, so it's no surprise that the level of investment is increasing through sectors like build to rent. Consistent yields over the long term coupled with capital appreciation have only bolstered confidence in the industry even in the face of the disruption we've had over the past 18 months."
"There's no doubt that further challenges are ahead in the short term; with the end of the furlough scheme, which still supports around 2m people, we expect claims on rent protection products to increase further. Whilst the pandemic has accelerated the demand for rent protection products, it's become integral to many letting agent's management propositions and has supported the confidence we're seeing in the sector."