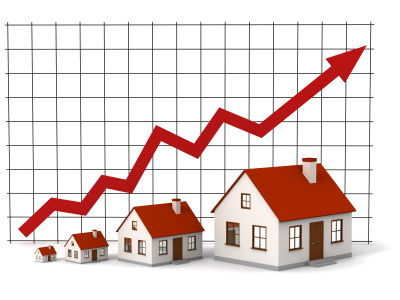 Continued demand for housing, regardless of the stamp duty holiday, has seen a surprise rebound in annual house price growth, according to data released by Nationwide.
The society's figures revealed that, during February, annual house price growth saw a rise to 6.9% from 6.4% in January - with house prices up 0.3% month-on-month, more than erasing the small decline seen in January. Nationwide say that the average price of a home now stands at £231,061 - the highest on record.
Robert Gardner, Nationwide's Chief Economist, explains this morning's data: "February saw the annual rate of house price growth rebound to 6.9%, from 6.4% in January. House prices rose by 0.7% month-on-month, after taking account of seasonal effects, more than reversing the 0.2% monthly decline recorded in January.
"This increase is a surprise. It seemed more likely that annual price growth would soften further ahead of the end of the stamp duty holiday, which prompted many people considering a house move to bring forward their purchase.
"While the stamp duty holiday is not due to expire until the end of March, activity and price growth would be expected to weaken well before that, given that the purchase process typically takes several months (note that our house price index is based on data at the mortgage approval stage).
"It may be that the stamp duty holiday is still providing some forward momentum, especially given the paucity of properties on the market at present. Shifts in housing preferences may also be providing a more significant boost to demand, despite the uncertain economic outlook.
"Many peoples' housing needs have changed as a direct result of the pandemic, with many opting to move to less densely populated locations or property types, despite the sharp economic slowdown and the uncertain outlook.
"As a result, the outlook for the housing market is unusually uncertain. There is scope for shifting housing preferences to continue to boost activity, especially if there is further policy support in the Budget. Nevertheless, if labour market conditions weaken as most analysts expect, it is likely that the housing market will slow in the months ahead."
Anna Clare Harper, chief executive of asset manager SPI Capital, says: "The temporary stamp duty reduction has been a major driver of house price growth with 6.9% year-on-year growth up from 6.4% in January. This is likely this reflects transactions being 'pushed through' before the originally proposed end to the reduction at the end of March.
"Stamp duty has a more than proportionate impact on transactions because affordability is heavily influenced by mortgage lending. Investors and homebuyers can borrow against the property price, but they cannot use finance to fund transaction costs.
"Reduced stamp duty is not the only driver of house price growth since the strictest lockdown conditions were removed in 2020. We also have cheap debt as a result of very low-interest rates, which gives buyers a 'discount'; the release of pent-up supply and demand and desire to improve surroundings amongst existing homeowners. There is also the 'flight to safety' since in times of uncertainty, people want to put their money in a stable asset with low volatility. These trends are likely to hold up throughout 2021.
"Looking to the future, lower transaction taxes remove a barrier for homebuyers and investors. So, the proposed and popular extension to the temporary stamp duty reduction is likely to boost the housing market in terms of transactions and pricing. This is positive news for the housing market, as house price growth both reflects and boosts confidence.
"Ultimately, housing has never felt so important as when we're in lockdown: we all need a roof over our heads and supply of new homes is limited. The easier it is to buy and sell existing properties, for investors and homebuyers, the better."