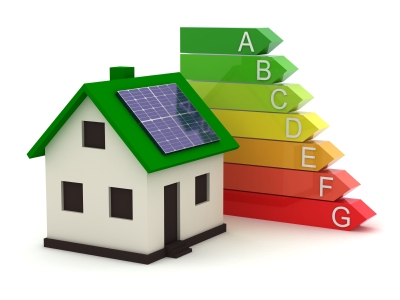 With energy bills rising and the government announcing yesterday that support will be reviewed from April next year, energy efficiency is high up on the list of priorities for many buyers and renters looking to move house.
The removal experts at LOVESPACE have identified the most important questions that house hunters should ask to evaluate how energy efficient their new home is.
To avoid unexpected costs and keep the bills down, people are advised to carry out necessary checks and ask a few extra questions during viewings.
There are important features that need to be discussed with the landlord or agency to get a sense of the home's energy use, including the condition of the heating, air conditioning systems and appliances.
Below is a list of questions you should ask to determine the energy efficiency of a property:
Ask for the Energy Performance Certificate (EPC)
The easiest way to find out how energy efficient a house is, is to check the Energy Performance Certificate. The EPC will show you how much energy the building uses and gives information about the estimated costs of energy bills.
How is the property heated?
Heating and hot water take up more than half of the energy costs for typical UK households, so using an efficient heating system can save families a lot of money. A gas-fired central-heating system is the cheapest to run, plus it has relatively low levels of carbon dioxide emissions.
How good is the insulation?
Insulated walls, roofs, ceilings and floors play a big part in cutting down heating bills, as they prevent heat loss and keep the cold air out. Proper insulation can reduce energy consumption by around 25%.
What is the state of the boiler?
Old boilers can have an energy efficiency of as low as 60%, which means that a whopping 40% of the energy that homeowners are paying for goes to waste. Most modern boilers however have an efficiency of 90% which means that their gas usage is much lower and so are the bills.
Are the windows double-glazed?
18% of heat loss occurs through windows, so double or triple glazing will significantly reduce energy wastage. The efficiency of the windows can be checked from the BFRC rating scheme - with A-rated windows being your best option and E-rated the least cost-effective.
How old are the appliances and are they energy-efficient?
When assessing the energy efficiency of a house, many people overlook the importance that the condition of appliances has on bills. All appliances have an energy label which tells you how much energy they consume. Upgrading the appliances to more energy-efficient ones has a significant return on investment in the long term.
Is there energy-efficient lighting?
Lighting takes up around 15% of a home's electricity use on average, so replacing traditional lights with energy-efficient fluorescent, CFL or LED lamps has a good effect on the wallet, as well as the environment.
A spokesperson for LOVESPACE, said: "With the growing importance of having an energy-efficient house, homebuyers should not be afraid to ask as many questions as possible to avoid a shock when receiving their energy bills.
"Many people overlook the importance of energy-efficient lighting, appliances and electronics, so don't forget to query the landlord about these details as well.
"House-hunting can be tedious so buyers may be eager to hurry and make a down payment as soon as possible, but taking the time to assess the power consumption of their potential new home may save them a lot of money in the future."