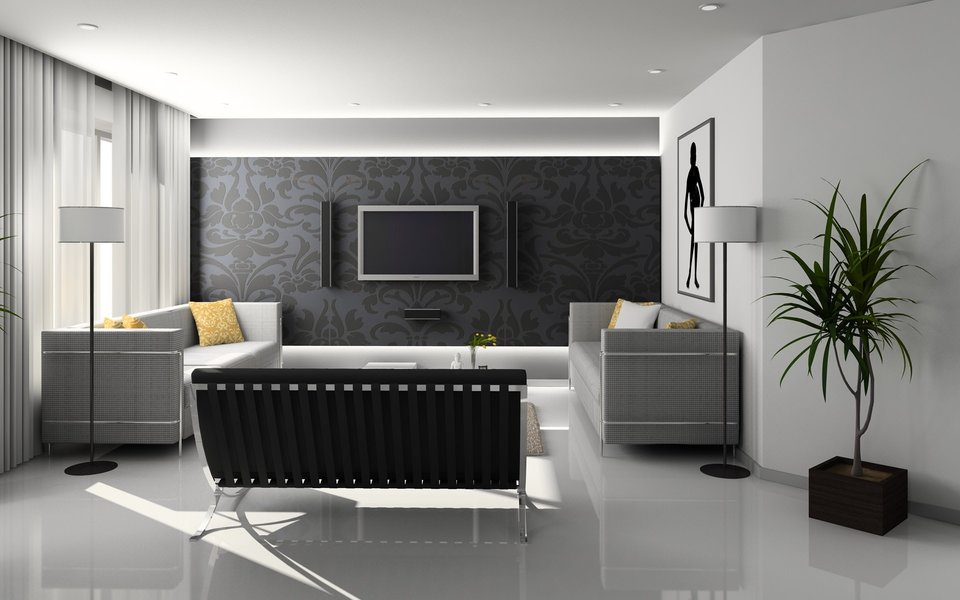 Lockdown has kickstarted a nationwide trend of home improvement, with 69% of homeowners saying they would like to make improvements to their current home.
DIY stores were one of the first to show signs of recovery following a nationwide lockdown earlier this year, with a 42% rise in sales at household goods stores, such as hardware, furniture and paint shops.
In the current climate, many people's finances are stretched as the UK enters a recession for the first time in 11 years. Research from online mortgage broker Trussle found that almost 1 in 7 homeowners are considering re-mortgaging their property for home improvement.
Trussle has teamed up with interior design blogger, Katy Orme of Apartment Apothecary to launch a guide for 'home improvements on a budget'.
1. Create a dual-purpose room
Working from home has become the norm for many during lockdown, and there are a number of ways to create an effective dual-purpose room that looks good and works well.
Firstly, try using the same colour scheme and style as the existing room when adding a desk, chair or storage furniture. This helps to create a sense of cohesion with the rest of the room. It'll also make the room feel spacious and less like an add-on.
Storage is key when using a room for two different purposes, so use storage furniture to divide the space.
Furniture doesn't always have to be pushed against a wall, so try positioning it at a right-angle. This will act as a natural room divider and free up more wall space.
Use closed cupboards for storing files and paperwork as they tend to look a little messy and attract dust.
Then make the most of 'dead' space by adding shelves, storage benches in bay windows, ottoman beds or storage footstools, or a wall mount a TV. You can then use the free space for a desk area.
2. DIY expensive interior trends
If there's a particular interior trend you love, you don't need to spend huge amounts of money on to get it. Try some DIY instead.
There are lots of natural textures being used in interiors, and you can replicate this at a fraction of the cost by adding cane panels to an existing cabinet.
If you're after the latest wall panelling and reeding craze, have a go using easy tutorials online.
Crittall doors are a stylish choice at the moment, but they can be expensive. Try glazed timber doors painted off black as an internal room divider. A DIY Crittall style shower screen could make for an impactful addition to your bathroom.
Line art is another trend that's easy and affordable to do yourself. If you can get your hands on some paint and a blank canvas, you could create a great unique piece to spruce up your space.
3. Use paint in creative ways
When working with a tight budget, it's a good idea to colour match designer paints. You can often find the tester pots on Gumtree or Freecycle.
You don't even have to paint an entire room to make a drastic change, especially as this can be quite a big job.
Think about highlighting woodwork or period features to give a room a fresh new feel. You could paint any uPVC doors or windows to help improve the overall feel of a room, and use dark colours to hide ugly moldings.
You can also easily and quickly give a room a new feel by using paint effects like a half-wall, or get creative with old tester pots.
4. Spend nothing and work with what you've got
It's easy to get used to our homes and not notice the areas that we could easily improve without spending a penny.
Removing any unsightly items is a good start, and changing the layout of the furniture can make a big difference. Moving just one piece of furniture in a room can free up floor space and give a room a whole new lease of life.
Once you've sorted out your space, you can go shopping for artwork, textiles or ornaments to update a forgotten space.It's easy to get used to our homes and not notice the areas that we could easily improve without spending a penny.
5. Make the kitchen a focus
If your focus is on selling your home and investing a small amount in an effort to get back as much as possible, your kitchen is a great place to start.
Remove tired wall cabinets and replace them with streamlined open shelves. These cost very little but will make your kitchen feel bigger and fresher.
Update your kitchen features by painting base cupboard fronts and replacing any handles. Another very easy DIY is re-tiling splashbacks.