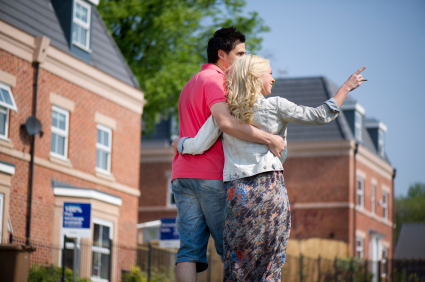 Amid falling house prices, are first-time buyers making use of government housing schemes? Uswitch polled a number of potential buyers, with the data showing that those on the lowest income are most sceptical about schemes like Help to Buy.
Mortgage experts at Uswitch.com polled 2,000 renters to determine whether the possibility of further falling property prices has given first-time buyers hope for the future, or if rising interest rates are making the dream of buying a home seem even further away.
With all of the disruption in the mortgage market and uncertainty about future interest rates, it may come as no surprise that only 41% of first-time buyers of all ages planned to buy within the next five years.
Despite the recent upheaval, the majority of 25-34-year-olds (61%), were the most eager to buy within the next five years.
Half of those surveyed who are not looking to buy in the next five years say house prices are holding them back, with the second biggest reason for not buying is not being able to pay a deposit.
While the majority of FTBs (43%) are not planning to use any schemes to get on the property ladder, 30% of prospective buyers under 35 are planning to use either the First Homes Schemes or the Help to Buy ISA to get their feet on the property ladder.
The Mortgage Guarantee Scheme which has been extended to December 2023, proved to be another popular scheme amongst first-time home buyers with one in five people planning to use it.
Conversely, Shared Ownership was one of the least popular schemes amongst first-time buyers with only one in ten people planning to use it.
There also seems to be a trend where the lowest income earners are the most unlikely to use any schemes (with the exception of the highest earners at over £75k).
Kellie Steed, mortgage expert at Uswitch.com says:
"There is no doubt that it's a challenging time for first-time buyers, despite a gradual fall in both property value and fixed-rate mortgages. Given that the average price of a home in the UK is currently £294,910, prospective buyers who are not yet on the housing ladder must save hefty deposits in order to qualify for the best interest rates.
"Declining house prices could mean now is an opportune time for some first-time buyers to make their first steps on the property ladder using one of the government's home ownership schemes. While the Help to Buy Scheme ended for applicants in England in October 2022, the First Homes Scheme and Shared Ownership Schemes may be valid options for some. The Deposit Unlock Scheme has also been extended until the end of this year.
"It's feasible, however, that some first-time buyers will still find it more economical to purchase a home at the end of 2023, given that both home prices and fixed-rate mortgage rates are anticipated to continue dropping throughout the year. Whether you would benefit more greatly from buying now or later, will depend mostly on your individual circumstances, so it's a good idea to chat with a broker before you decide to buy".