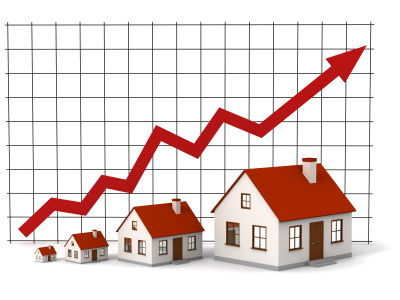 The average house price grew by 10% on an annual basis in November, figures from Nationwide show.
This compares to a 9.9% annual rise the month previous and leaves the average house at £252,687.
Looked at monthly, Nationwide says that house prices ticked up by 0.9%.
These figures mean that house prices are "almost" 15% higher than they were in March 2020, the commonly held view of when the coronavirus pandemic began in the UK.
Nationwide says that a recent cooling of the housing market, such as transactions dropping 30% annually in October, was inevitable "given the expiry of the stamp duty holiday at the end of September," which gave, the lender's chief economist Robert Gardner says, "buyers a strong incentive to bring forward their purchase."
However, he adds, "The number of housing transactions so far this year has already exceeded the number recorded in 2020 with two months still to go and is actually tracking close to the number seen at the same stage in 2007, before the global financial crisis struck."
Gardner says that underlying activity "appears to be holding up well," pointing to high purchase approval rates and a healthy labour market.
"If this is maintained," he says, "housing market conditions may remain fairly buoyant in the coming months, especially since the market has momentum and there is scope for ongoing shifts in housing preferences, as a result of the pandemic, to continue to support activity."
He warns, though, that inflation is a major sticking point in creating uncertainty and that the 'Omicron' variant of the coronavirus is something of a wildcard.
"The exceptional is almost starting to feel normal," says Garrington Property Finders chief executive Jonathan Hopper.
He points out that annual growth figure have reached double figures "no fewer than six times this year.
"And while the annual figures have eased off since their peak in June, both the quarterly and monthly rates of inflation remain strong.
He continues: "This is no longer a free-flowing, boom market. Instead, prices are being driven up by chronically short supply and seller hesitancy.
"Supply is set to be curtailed even further by the festive season and the new Covid variant, both of which are likely to prompt would-be sellers to hold off on listing their home until the New Year.
"The days of sellers being able to raise prices almost by the week are gone and the market is entering a more measured and sustainable phase. Average prices are likely to keep rising, but 2021's long run of double-digit price inflation is slowly starting to burn itself out."
And Glenhawk chief executive Guy Harrington comments: "Homeowners should enjoy the ongoing house price growth bonanza while it lasts.
"Whilst the fundamental driver of this rampant growth remains undersupply, which has been exacerbated by inflationary pressures and which the government seems incapable of addressing, 2022 is likely to be the year that economic reality finally bites.
"Interest rates will have to go up in Q1, which will slow the mortgage market and put significant pressure on consumers, whilst working from home will slowly lose its lustre, driving the urban living trend."