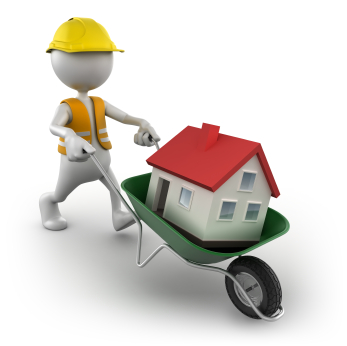 Record numbers of homes will be sold "off-plan" by the end of the year, according to the NAPB which predicts that the number of properties available for purchase before they have been constructed will soar to levels never witnessed before.
According to data, 37% of new homes sold in England and Wales were sold off-plan, up from 35% in 2020 but down from the peak of 47% in 2017.
Statistics show that in 2021 24% of detached homes were sold off-plan (up from 21% in 2020), 33% of semi-detached homes (up from 31%), and 45% of terraced homes (up from 41%). Off-plan flat sales fell to 44% from 50% in 2020. (Reason – Covid hitting city living.)
Buyers of off-plan paid a record £1.1bn in deposits in 2021, compared to £348m in 2007. Today most off-plan sales are to owner-occupiers while before 2016 most off-plan sales were driven by investors. Cotswold District had more off-plan sales than anywhere else – 86% of new homes completed there last year. In the past London has dominated the off-plan sales market.
According to Jonathan Rolande, from the National Association of Property Buyers, there are a number of pros to buying off-plan, including:
- You can secure a property at today's price. If property prices go up you gain. Eg. A property bought off-plan in Jan 2021 at £350,000 would after a 9.6% annual rise (per UK HPI) be worth around £383,600. (In theory.)
- Possibility of getting a good deal. Developers often sell the first off-plan properties on a development at a keen price to get some money in.
- Possibility to part exchange your existing house or benefit from some kind of assisted move programme offered by the developers.
- You may be able to take advantage of Government incentives, such as Help to Buy.
- You have a formal agreement to buy so the sale is very unlikely to fall through. You can start planning the move with confidence. Less likely to be affected by a broken chain.
- New homes are built to the latest designs and have the latest tech. They are also much more energy efficient.
However, there are also cons, including:
- New homes are often sold at a premium known as the new build premium. So this may eliminate any profit due to an off-plan to price rises. Research by Unlatch says that the premium paid by new-build homebuyers increased by 10.8% in the last year with these homes now commanding 40.2% more than existing homes. (Interesting stat, though seems a bit high?)
- You don't know what an off-plan house or the area will look like until it is finished.
- There may be delays in completion. (Current reasons/excuses – labour shortages, supply chain issues, weather, Covid, Brexit, energy crisis etc.) Developer contracts usually have a 'get out clause' if they need to delay – but you can't. Delays could cause problems with selling your old home (broken chain etc.), arranging removals, and maybe needing temp. accommodation. Your mortgage offer may also expire – most only last 6 months, sometimes less.
- New period properties often have a lack of character and a reputation for not being very well built.
- You may be living on/near a building site for several months/years.
- New build properties often have a lot of faults/ snagging issues.
Jonathan expects the numbers to rise sharply in upcoming weeks and said: "The lockdown blip has seen the numbers sold off-plan reduce but we expect these to rise quickly to match and overtake the previous high of 47% in 2017. City centre apartments will lead the increase with increasing numbers sold to owner-occupiers rather than investors. Buyers love the certainty of fixing a price on a home at today's value, no matter what the market does in the future during construction."
He adds: "Older buyers often take advantage of part exchanging the family home for a brand new apartment or smaller, more manageable house. The PX process gives guarantees unavailable in the 'standard market' eliminating viewings and fall throughs. But buyers shouldn't forget that new builds are premium products and are priced accordingly – there is often better value to be had in the second-hand market.
"Buying off-plan is a decision made out of a mix of personal preference and necessity, very often people commit early because they simply cannot find what they want elsewhere thanks to the incredible shortage of property coming to the market."