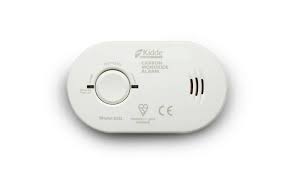 BestHeating warns Brits of the danger of carbon monoxide, after new research reveals more than a quarter (29%) don't have a carbon monoxide detector in their home.
Carbon monoxide is a colourless, odourless, poisonous gas, which people can't see, smell, hear or taste - known as the silent killer.
Every year in the UK there are around 60 deaths in England and Wales from accidental carbon monoxide poisoning and thousands are hospitalised.
The research from the leading online supplier of affordable luxury designer radiators also reveals 26% of Brits don't know the symptoms of carbon monoxide poisoning and often the symptoms are mistaken for the flu, food poisoning - or even a hangover.
The six main symptoms are tension-type headache; nausea/vomiting; breathlessness; dizziness; erratic behaviour; and general lethargy and confusion.
Symptoms may be less severe when away from the source of the carbon monoxide.
Any person is at risk of carbon monoxide poisoning, but some are more vulnerable than others such as the old and very young and people with chronic heart and respiratory conditions.
Pets are also affected by carbon monoxide and can help identify potential dangers. For example, cats will refuse to come into the house and dogs may have a sore mouth and appear irritable.
Carbon monoxide is produced by the incomplete burning of carbon-based fuels and can be caused by open fires, cookers, boilers, burning fuel in unventilated spaces, BBQs, blocked flues and chimneys, and by smoking shisha pipes indoors.
Worryingly, over half of Brits (57%) don't know all of the sources of carbon monoxide poisoning, only one in 10 think BBQs can be a source and only 18% know open fires can also be a cause.
John Lawless, content marketing manager from BestHeating says:
"It's worrying that over a quarter of Brits don't have a carbon monoxide detector in their home as they are potentially putting their lives at risk.
"We urge people across the country to purchase a carbon monoxide detector and be aware of the symptoms caused by carbon monoxide poisoning."