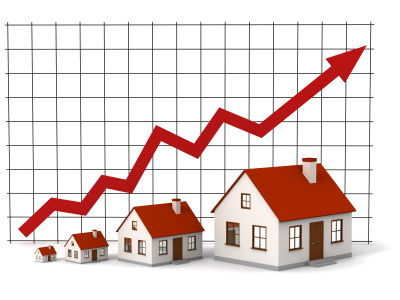 Asking prices have climbed by £5,767 or 1.8% over the past month to reach a new record of £333,564 in May, the latest index from Rightmove has found.
Average prices across the UK were also up by 6.7% compared to March 2020, with no direct annual comparisons were available due to the fact the property market was in lockdown a year ago.
London prices have remained almost flat since the first lockdown, edging up by just 0.2% since March 2020 to £640,373.
Wales has seen a sharp jump of 13% over the same period, with average asking prices now £225,161.
In the North West prices climbed by 11.1% £223,446 and in Yorkshire & the Humber they rose by 10.5% to £216,614.
Average London house prices are 2.9 times higher than prices in the northern areas and although still large, this is the smallest ratio recorded by Rightmove since 2013.
While the number of new properties coming up for sale is at a similar level to the long-term average, demand continues to massively exceed supply, especially in northern regions and in the market for family homes.
Rightmove director of property data Tim Bannister says comments: "Last year's unexpected mini-boom is rolling on into 2021, with new price and market activity records again defying many predictions.
"Buyer affordability is increasingly stretched, but there's obviously some elasticity left as many buyers are squeezing their way into higher price bands.
"This high demand, with both willingness and ability to pay more, has pushed the average price of property coming to market to a new all-time high of a third of a million pounds."
Bannister adds: "There appears to be more headroom in buyers' budgets among those looking to upsize.
"Family homes with three bedrooms or more are like gold dust in many areas of the country, especially in parts of the north.
"For example, compared to the same period in 2019 agents in the North East have 59% less available stock for sale in the 'second-stepper' sector made up predominantly of three bedroom homes, while Scotland is 65% down in the 'top of the ladder' four bedroom or more sector.
"In contrast London's available stock is down 20% and 24% respectively in these sectors, so while supply is still limited it is more closely matched to demand.
"Another important factor driving the higher demand and quicker average time to sell in the north is that more of their sellers are intending to buy and stay local, whereas many Londoners are looking to move out.
"Rightmove research among those intending to sell in the next 12 months shows that an average of 84% in the north are looking to move locally, compared to only 52% in London.
"The pandemic has changed many aspects of what people want from their homes, and the pricing pendulum is swinging away from London towards the north."