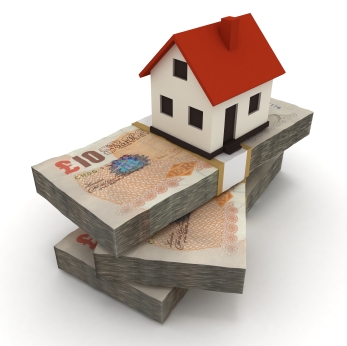 Prior to selling up, many homeowners look for ways to make their property attractive to potential buyers. Although kerb appeal can do it's bit getting house-hunters through the door, giving your home the wow factor and converting a viewing to a sale requires a little investment.
Sofa and carpet specialist, ScS, has partnered with Bruna Pani at We Buy Any House to reveal where best to invest your money in each room from simply updating the doors to adding an en-suite to increase the value of your home.
Living Room
Replacing radiators – add up to £10,000
The heating system is one of the most important parts of any property and upgrading radiators can ensure they emit enough heat to keep the room warm, as well as improving appearance.
Bruna suggests: "Starting at around £600, free-standing, aluminium radiators are perfect for a stylish, modern upgrade to your heating system. Black or charcoal coloured radiators not only add a classic and chic element to your living room but are also the advised option as they emit the most heat, which will keep the room at a nice cosy temperature."
Improving interior doors - add up to £7,500
By upgrading your interior doors, you can create a stylish feel and add to your property value by creating the impression of elegance and luxury.
Bruna says: "Starting at just £700, the addition of single or double sliding doors leading into your living room not only provides more functional and flexible access but also elevates the style of the room by creating the option of having open space and flow throughout the house."
Kitchen
Adding a kitchen island – add up to £15,000
Adding an island to your kitchen will not only add functionality in terms of workspace but can also add value due to aesthetic reasons.
"Islands have many benefits, from providing a casual seating area, to making extra storage room for appliances. This feature creates a modernised fixture that adds value to the aesthetic and function of the room, and prices start from as little as £250."
Replacing the kitchen floor – add up to £5,000
Replacing your kitchen floor can not only update the look and feel of the room but can also provide buyers with the insurance of longevity.
"Replacing the kitchen floor can totally transform a room and result in a clean and comfortable finish, which is practical and affordable. Starting at £402m, modern porcelain tiles are an effective way to add value onto the kitchen, as they're hard-wearing, waterproof, stain-resistant and durable."
Bedroom
Adding an en-suite - add up to £10,000
Though a fairly expensive and laborious project, adding an en-suite bathroom can increase property values by over 5% as they are a must-have for many buyers.
Bruna explains: "Combining the fixtures, fittings and finishes of an en-suite can cost upwards of £3,000 but can add great value to the room and overall price of the property. They bring accessibility and are a really practical addition to any bedroom. They also provide an element of luxury."
Walk-in wardrobe – up to £7,500
A walk-in wardrobe can really increase the appeal of a master bedroom, as they are sought after by many homeowners and can make a property feel incredibly lavish.
"Transforming part of a spacious bedroom into a walk-in wardrobe is a great way to add value onto the property, as well as providing easy access to all your clothing items. Starting at around £5,000, the addition of a walk-in wardrobe is a luxurious way to get ready, especially if you indulge in a fitted dressing area, full-length mirrors and ambient lighting."
Bathroom
Underfloor heating – add up to £10,000
Adding underfloor heating can not only create the impression of luxury, but it can also make a bathroom more functional, as radiators aren't needed, maximising space.
Bruna says: "Underfloor heating ranges from £1,000 to £1,500 depending on size, the company installing and cost of materials. However, it makes a bathroom far more cost-efficient, in comparison to running regular heating, and adds a feeling of quality."
Upgrading the bathtub – add up to £5,000
Bathtubs often need replacing due to general wear and tear, so upgrading them is a must when aiming to add value to the bathroom.
"Replacing the bathtub is essential when aiming to add value to the bathroom. Opting to replace an old one with a high-end, luxury, spa-inspired bathtub can significantly increase the overall value of the room."
Amy Forster, content executive at ScS, adds: "It can be hard to know which areas of your home are best to invest in when trying to make it look attractive to buyers, but our research shows that every single room can increase value.
"While en-suite bathrooms and kitchen islands add the most money to your home, it's good to know that even relatively minor upgrades, like replacing doors and radiators, can still really increase your value."