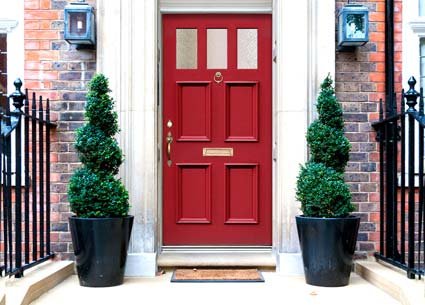 Kerb appeal, the practice of presenting your home in its best light to entice prospective buyers to make a purchase, is a fine art. And it all starts at the front door.
Homeowners wishing to maximise kerb appeal can look to these considerations from home improvement experts when searching for the perfect front door.
A front door is one of the first things that potential buyers will notice in a property, so making a good first impression is key. Whether you're looking to make a quick sale in the current market or just want to add value to properties for the future, a new front door will improve the focal point of any home and help with the success of a sale.
From colour and materials to energy efficiency and security, the home improvement experts at Stormclad have highlighted the main focuses to consider when choosing a new front door to upgrade your abode.
Budget
In terms of making decisions about your front door purchase, ascertaining what you can afford is always a good place to start. A quality front door is a solid investment for the overall property so it's important to set boundaries for the lower and higher end of your budget to see what you can get for your money. It's worth investing in a well-manufactured product with professional fitters to ensure that the security and insulation of your home are enhanced. Aesthetically you want to make sure it complements the look of your home – so getting a balance of aesthetic and functionality is key.
Materials
With a huge variety of doors on the market, materials are one of the most important considerations when browsing options, as different styles offer different benefits and finishes. Traditional options such as solid timber doors look aesthetically pleasing but do not provide the insulation and security that UPVC and composite door options provide.
These traditional wooden doors can be customised with paint and varnish, but they can depreciate in certain harsh weather conditions and require regular maintenance over time. UPVC doors are easily customisable and have a strong structure, and composite doors are equally as customisable and durable and have an authentic wooden finish which is low maintenance and requires no painting. UPVC and composite doors are also very durable and resistant to forced entry.
Glass
Many door designs include glass, and this can really complete the entrance to your home. Glass allows natural light through and the inside of the home to be seen from the outside, so it's important that you pick the shape and style of glazing to suit you. Whether that's a large or small rectangle, translucent, patterned glass or a sidelight window either side of the door – it's important to browse different options before choosing a design that is bespoke to your needs, and important considerations include if your property is north or south facing, or if you have a wide or narrow entrance. All quality glass should meet British standards in terms of security.
Colour
As the focal point of your home, choosing the colour of your door wisely is vital. You want to ensure that it complements the exterior of your property – so consider if you have newly painted the outside, or if you plan to do it in the near future when choosing a colour. Most UPVC and composite doors come in a range of colour options and are easily customisable if you have a particular colour in mind. Most reputable companies and professional external fitters can advise on the best way to achieve the look you want, so it's always worth asking.
Energy efficiency
The heat retention of a home is very important as you want comfort and efficiency when it comes to your energy bills. A high-quality well-fitted front door can contribute greatly to energy efficiency, stopping draughts that can leak through the sides and glazing if poor quality materials have been used and inadequate installation has taken place. Modern door styles can also ensure that your home is kept cool in the hotter months, and this helps to balance the temperature to ensure comfortable living. All quality doors will meet performance standards and will be awarded a 'U' value and rated on a scale from E to A ++ based on materials.
John Evans, Managing Director of Stormclad, concludes: "Not only will a new front door significantly improve your home's exterior, but it will also enhance the energy performance and security of a property.
"We understand that with many options out there, finding the right new front door to elevate your property and maximise its potential on the market can be a difficult decision, but as home improvement experts with over 20 years of experience – we have listed the main considerations to help inform your decision before making a purchase."