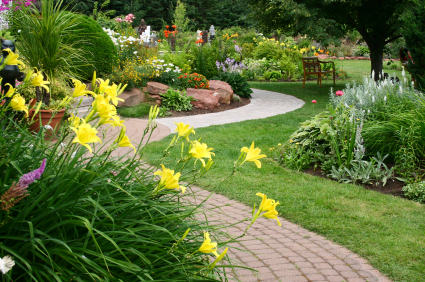 Hard to believe it but summer officially starts on 28th March. Clocks will go forward, the days will last longer and with light at the end of the lockdown tunnel, you'll want to make the most of your outside space with family and friends once we get the all-clear.
With arguably one of the longest feeling winters on record, many of us are excited to get outdoors, fire up the BBQ and enjoy the brief fleeting glimpses of decent weather that only a British summertime is able to give.
However, across the country purse strings have had to be tightened in many households, leaving homemakers with little cash to invest in big renovation projects. To help people take advantage of the warmer months, experts at Hitachi Personal Finance have provided their tops tips on how to get your garden summer-ready without breaking the bank.
Start with a simple tidy up
After a tough winter, giving your garden a good straighten up will help give your outdoor space a new lease of life. If you have decking or a patio, use a pressure washer to spray away any dirt and build-ups of grime and keep your grass short.
Weeding
In the lead up to summer, to get your garden looking its best right from the pathways and walkways to the lawn and borders, pick out any weeds you see. If you're struggling to keep on top of them, you can use a specifically designed weed control product.
Clean the summer essentials
Barbecue
If you have stored your barbecue away for the winter you might just need to get it out and give it a little spring clean, wiping it down and cleaning the trays before using it. However, if you have left your barbecue outside, you may need to assess any damage or rust that has accumulated to ensure it's safe to use this summer.
Garden Furniture
If you have outdoor furniture, it is important that it's all spick and span for summer. It is recommended to take your cushions off any outdoor seating during winter, but if you forgot this year there are great ways to clean them with little hassle. Firstly, check if you can remove the cushion covers and pop them in the wash on a delicate setting. If your cushion covers are not removable you should make a solution of warm soapy water with a mild detergent to help remove any marks.
Hang fairy lights
Fairy lights can transform the look of your garden, whether you decide to use them to line your fence or wrap them around a tree, they provide a great setting that's perfect for relaxing summer nights outdoors. Try using solar-powered ones to save on your electric bill or avoid having to fork out for batteries every few months.
Paint the fence
Your fences have most likely been neglected over the winter period, so there is no better time to give them an injection of life with a new coat of paint. You'll be amazed by what a good clean and a lick of paint can achieve. However, be sure to check your deeds and speak to your neighbour first before making these changes.
Put up a bird feeder
Encouraging wildlife into your garden can be a great way of doing your bit for the environment as well as creating a relaxing atmosphere for spring/summer. Adding a bird feeder is a cheap and easy way to encourage birds into your garden and makes a great project to get the kids involved with.
Save the bees
The Save the Bees campaign has been going for several years now, and this summer is no different. To do your bit you can plant bee-friendly flowers in time for the weather to get warmer. If you're unsure of how to get started there are lots of free online guides and resources available to help you or try something like Beebombs as an easy way to grow wildflowers in your outdoor space
Accessorise
Adding accessories to your garden space has become a huge trend in recent years and adding features such as mirrors work well to make gardens appear bigger than they are. You can also use scatter cushions and rugs to bring the comfort of the home outside while you enjoy the sunshine.
Vincent Reboul, Managing Director at Hitachi Personal Finance, said: "With Spring showing signs of arriving and the days gentling warming up, many people will be looking at sprucing up their outdoor space ready for the summer months.
"Spending time outdoors making simple, yet garden improvements after a long winter in lockdown can be beneficial for our overall wellbeing. At the same time, with minimum outlay, we wanted to offer some useful insight into some of the simple steps Brits can take to give their gardens a welcome facelift."