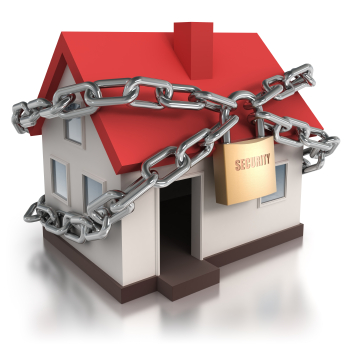 With the nation still currently under lockdown, many have taken to improving their property with DIY projects. But this time at home also gives us the opportunity to evaluate and improve the security of our homes.
Despite the current situation, opportunist criminals are still striking – even while many of us are home for most of the day and home improvement efforts could have some serious security benefits.
With many of us having more time on our hands to tackle household jobs, Izzy Schulman at Keys 4 U, gives his home renovation tips to keep your property safe and secure.
A case for cleaning
If you don't already have one, consider installing a home security system – as even the sight of one alone can prevent a burglar from trying their luck.
And if you already have one, it's time to get cleaning. According to many ex-offenders, burglars are more likely to attempt a break-in if the security system looks worn, outdated, or broken.
Dusting down your alarm box, CCTV system or smart doorbell shows opportunist intruders your device is still in use and warns them off your property.
Garden guarding
For burglars, the aim is to get in and out of the home quickly and without being seen. So, an overgrown garden is an ideal place to hide while they scout out a property.
As we approach the summer months, it's the perfect time to tackle the gardening. Cut down overgrown trees and trim away any unkept bushes. This removes covered or shaded areas where criminals can hide unseen and, making it easier to break in and get away undetected.
However, not only do untidy gardens provide the perfect hiding place for burglars, but they can be a source of valuable items too.
An estimated £4 billion is spent every year on garden supplies and decorative furniture, so there's significant value to target in the garden if belongings are left lying around.
Consider adding gravel or small stone features in the garden to deter criminals, as you'll be able to hear them moving around outside.
Fireproofing your home
Every year, there are more than 30,000 reported house fires in the UK, with an average of 260 fatalities as a result.
Now is the perfect time to make sure your smoke alarms and carbon monoxide detectors are working. These could save your life in the event of a fire.
Another effective way to help fireproof your home is to spray some fire retardant around the susceptible areas in the home, like heaters, kitchens and fireplaces.
Also, consider installing a fire door or transforming your existing doors. A fire door can hold back a fire for up to 60 minutes, giving your family precious time to escape danger if the worst happens.
Adding self-closing devices, applying fire-resistant glazing and using intumescent seals – which expand upon reaching a certain temperature – help transform regular bedroom doors into protective fire doors.
Repairing fences and sheds
Wooden fences and sheds are prone to rotting if the wood isn't treated regularly – making it easier to access your back garden or shed.
As the nicer weather is here, it's time to get outside and treat any wooden fence or shed panels with a weatherproof stain or paint, to prevent rotting. You should then look to treat wood panelling every 2 years to protect them from the elements.
Those with south facing gardens should consider treating panels more often, as increased UV exposure can also weaken the wood.
However, it's recommended that any valuables, like bicycles and garden tools, are locked away in a shed or garage each night anyway, to keep them safe if the worst happens.