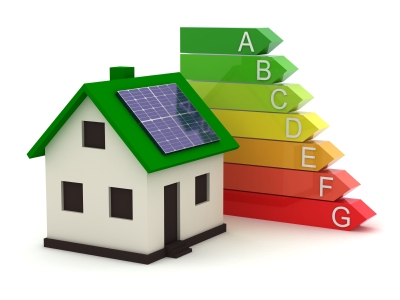 Whether you're a homeowner or landlord, you're bound to have noticed the increasing focus on encouraging us all to make our properties more energy efficient.
This is part of the drive to ensure the UK achieves its legally binding target of net zero greenhouse gas emissions by 2050, which has two benefits. As well as being kinder to the environment, it also means that our homes will be warmer and cheaper to heat in the future.
Current legislation requires all rented homes to have a minimum EPC rating of 'E', but the Government hopes to raise this to 'C' before 2030. And to help cut carbon emissions, gas boilers are being phased out. Proposals are that from 2025, developers will no longer be able to put them in new homes, and then from 2035, the plan is not to install a new natural gas boiler in any property – i.e. it will have to be replaced with a low-carbon heating alternative, such as a heat pump, biomass boiler or solar panels.
Obviously, there is a cost to making energy efficiency improvements, which won't be affordable for everyone. However, the good news is that Governments across the UK have put in place various forms of energy efficiency grants that you may be able to apply for.
New Government ECO scheme for insulation
The Government already has an ECO scheme in place, known as 'ECO4', which extends to England, Scotland, and Wales. This is targeted at those most in need of financial support - people in social housing, on a low income, or fuel poor – living in properties with electric storage heating.
Homeowners, landlords, and private tenants are eligible to apply, with grants for energy efficiency improvements and discounted rates for installing insulation available.
In light of the cost-of-living crisis, last November, the Government announced a new £1 billion ECO+ scheme, which will extend financial support to households that don't currently benefit from any other Government support to make energy efficiency improvements. Although they intend that around 80% of the funding will go to properties in lower Council Tax bands and with an EPC rating of D or below, other homes may qualify. This is likely to become available in spring 2023.
What other energy-efficient grants are available?
The Boiler Upgrade Scheme – England and Wales
If your property is in England or Wales, you could get a Government grant to cover part of the cost of replacing fossil fuel heating systems - that's oil, gas, or electric - with a heat pump or biomass boiler. You can apply for one grant per property of up to:
£5,000 towards an air source heat pump
£6,000 towards a ground source heat pump
£5,000 towards a biomass boiler
This is part of a raft of Government-backed schemes under their 'Help to Heat' programme – which includes the Home Upgrade Grant and the Energy Company Obligation - although most of these are only available to low-income households.
Energy efficiency grants and loans - Scotland
In Scotland, homeowners can apply for grant and loan funding up to 75% of the total cost of improvements, up to a maximum of £7,500 or £9,000 for rural properties that qualify for an uplift.
While registered private landlords aren't eligible for this scheme, there is a separate Government-funded Landlord Loan scheme, with maximum loan amounts varying depending on the type of improvement.
Buying a property – what to look for
Given the eco-drive, if you're buying a property, it's important to consider what you might have to spend on it in the coming years. So here are a few things to check:
What is the EPC rating? If you're buying as an investment and it's below 'C', factor in the cost of making improvements over the next couple of years to get the rating up. And if you're buying for yourself, although minimum ratings currently only apply to rented homes, that may change in the future – plus, if the rating is at the lower end of the scale, bear in mind the property could be expensive to heat.
Is there a gas boiler? Beyond 2035, you may need to replace the entire heating system, so if the property already has a heat pump or biomass boiler, great, you're ahead of the game. If not, ask how old the boiler is and make sure you get a quote for the cost of replacing it.
What kind of insulation does the property have?
It's worth checking what insulation is already installed, so you know whether you could quickly and easily improve the home's energy efficiency.
Are there fireplaces with open chimneys? Bear in mind you can stop draughts and heat from escaping up the chimney by fitting 'chimney balloons', which are inexpensive and easy to fit and remove. But do secure a check from a qualified chimney sweep.
Is the property listed? If the property is listed, has covenants on it, or is in a conservation area, there may be restrictions on what changes can be made, particularly to the exterior. For instance, you may not be allowed to fit solar panels or an air source heat pump outside, and if you need to install double-glazing, it could be expensive.
Selling a property – what to consider
If you're planning to sell, you probably won't want to spend much on making improvements, but most buyers are going to want a decent level of energy efficiency. So here are a few things you can do that may help secure a successful sale:
Secure your EPC certificate. This will explain if you have a 'C' and above energy-rated property – or below. If it's below, you may want to consider improving it to a 'C' rating if you can.
Switch to a smart meter. This is a particularly good idea if you're selling a property that appeals to first-time buyers, as they're likely to want to know about monthly costs. Fitting a smart meter means you'll be able to tell them exactly where they could make savings and these can be fitted for free by your energy supplier.
Add insulation where you can. This is a relatively low-cost way to make a property more energy efficient, so it's worth making sure the roof, walls, and floors are as well insulated as you feel is reasonable.
If you have a gas boiler, consider a renewable heating survey. While this won't make any difference to the immediate energy efficiency of the property, it's very helpful for buyers to know what would be involved in upgrading the heating system.
A heating company should be able to assess the viability of installing a new system, give you an approximate quote, and also let you know what funding schemes might be available.