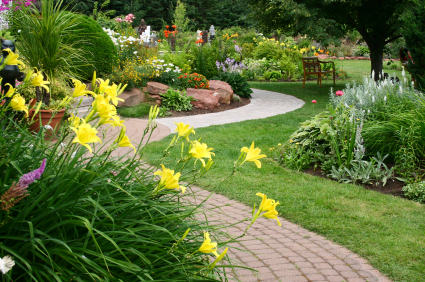 With outside space more valuable than ever for homebuyers and 64% of UK residents claiming they wouldn't buy a property if it didn't have an outdoor area, our gardens are shifting from simply somewhere to sit on a warm day to being a major player when it comes to increasing the saleability of our homes.
It's National Gardening Week and what better way to celebrate this than to reveal how to increase the value of your home by transforming your garden.
Newly released research from the find-a-tradesperson platform, Rated People, shows a year of lockdowns and reduced social contact has meant outdoor space for entertaining is now more valuable than ever to homebuyers.
Summerhouses, outdoor entertaining areas, external lighting, children's treehouses, and pizza ovens are now among the most value-adding garden improvements, adding almost £20,000 to the value of your home. Other garden add-ons that have gained in popularity over the last year, like a garden home office and a garden gym, could add on another £10,000 on top.
How your garden can boost your home's value
The findings are taken from this year's Rated People Home Improvement Trends Report, where potential homebuyers?revealed?how much extra they'd pay for different garden improvements - with things like garden offices, garden gyms and outdoor entertaining areas now adding more value to a home than classic additions like a lawned garden, a paved patio, and mature trees and plants.
The top 10 most value-adding garden improvements in 2021 (and how much value they'd add):
1: Swimming pool £7,707
2: Home office garden room £5,325
3: Summerhouse £5,249
4: Gym/studio room in the garden £5,107
5: Bifold doors/French windows to the garden £4,654
6: Outdoor entertaining area £4,286
7: Decked patio £4,227
8: Paved patio £4,083
9: Greenhouse £3,805
10: Mature plants/trees/flowers £3,716
64% of UK residents now say they wouldn't buy a property if it didn't have an outdoor area. 29% of the UK say they're looking to move to a property with more outdoor space in the next 12 months, and 30% went on to say a home's outside space is actually more important to them than what's on offer inside.
The priceless value of outdoor space
The study also reveals how much outside space has helped our mental health over the past year. Well over half (57%) of the UK say having a garden helped them to get through the pandemic, and 44% admitted that without their outdoor area, there was no way they would have been able to see their family or friends.
39% of the UK say they got more interested in gardening during the pandemic and this year, 47% plan to transform their gardens in some way.
Garden trends for 2021
When it comes to how we will be improving our outdoor spaces in 2021, the report also looked at which jobs are increasing in popularity the most for 2021. Demand for swimming pool maintenance skyrocketed by 223%, creating a garden gym rose by 218% and building a BBQ went up 111%.
The top 10 jobs rising in popularity the most for 2021
1: Swimming pool maintenance + 223% (YoY 2019 vs 2020)
2: Garden gym +218%
3: Wooden/metal/wire fencing +143%
4: BBQ +111%
5: Firepit +92%
6: Sprinkler system +82%
7: Wooden decking +77%
8: Log cabins +74%
9: Summerhouse +73%
10: Playhouse/garden shed +71%
Adrienne Minster, CEO at Rated People commented:?"Our gardens and outside spaces have been a lifeline over the past year. For many of us, outside spaces have gone from being somewhere we might spend a bit of time when the weather is nice, to an important extension of our homes which have allowed us to see friends and family when it might not otherwise have been possible. It's easy to see why homeowners and homebuyers now place more value on outdoor spaces.
"After a long, hard winter, we predict there's going to be a surge in people wanting to make the most of their gardens this spring and summer – from creating areas perfect for entertaining friends and family to building new patios, garden rooms and greenhouses to maximise a home's value ahead of selling. We just need the weather to improve now so we can enjoy our time outside!"