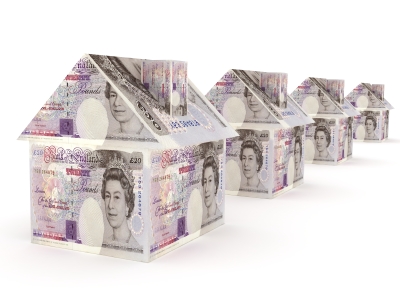 New analysis into the value of all 29m homes in the UK shows market is worth a total of £10.7 trillion - four times the market capitalisation of Apple
The London housing market is worth £2.5 trillion - equivalent to the Midlands, Scotland, Wales and Northern Ireland combined
66% of homeowners saw their property value increase over the last 12 months with an average gain of £7,000 or £19 per day
Over the last six months, 11.1 million (38%) homes have recorded a decline in value, averaging £7,700 per property
More than half of values are still growing in the North and Midlands, while cost-of-living challenges and higher mortgage rates put pressure on higher priced homes in the South
Despite higher mortgage rates and increasing inflation, the value of homes across the UK housing market is £10.7 trillion as of May - over four times the market cap of Apple or eight times the market cap of Alphabet. The London housing market alone sits at £2.5 trillion which is equivalent to the Midlands, Scotland, Wales and Northern Ireland combined.
Set against a tumultuous market, two in three (66%) homeowners have seen their homes increase in value by at least 1% over the last 12 months, Zoopla data reveals. This means these homes have increased on average by £7,000, or £19 per day.
But it's not all positive news: 11.1 million homes have fallen in value by at least 1% in the last six months, or an average reduction of £7,700.
However, a pick up in market activity in Q1 2023 has supported a reversal of some losses with the average UK home increasing in value by £342 in the last three months. Every home in the UK is unique and will have its own value trajectory, but for homeowners serious about moving or remortgaging their home, Zoopla's My Home is an essential tool to help track individual increases and decreases in value.
In a sign of shifting trends, UK homes are split almost equally between those gaining value, losing value and those seeing no real change (+/-1%) in the last six months. But national averages can be dangerous when used to make decisions on individual properties, as the reality of market conditions mean values can vary widely by local area and property type.
Some four out of 10 homeowners in Northern England, Wales and the Midlands saw the value of their homes increase in the last six months. Just over a fifth of homes in London, the South East and Eastern region increased in value within the same period.
Despite nearly nearly 9.2 million homes increasing in value over the last six months, the top 10 areas with the highest proportion of homes going up in value are concentrated in the North and Midlands. Only one postal area is located in the South - Dorchester - where 46,000 homes have increased in value since November 2022.
Homeowners located in Yorkshire and the Humber are disproportionately represented with four postal areas seeing increases in value: Halifax, Wakefield, Huddersfield and Bradford.
The highest concentration of homes falling in value over the last six months are predominantly coastal locations across the South of England. These locations recorded a rush of buyers since 2020, pushing prices higher as people relocated or looked to commute longer distances to work. Zoopla data shows over 50% of homes falling in value in these areas as demand cools.
Commenting on the analysis, Richard Donnell, Executive Director at Zoopla says: "With a value of £10.7 trillion the housing market is a huge part of the nation's wealth. Everyone's home has its own value and trajectory of how that value is changing over time. While the headlines report that UK house prices have been falling, our analysis finds that there is more of an even split between homes with price gains and price falls over the last 6 months when looking at trends on a property level.
The value a homeowner can get for their home unlocks the options for their next move or impacts how good a rate they might get when they remortgage. More and more homeowners are tracking homes month by month to better understand their most valuable asset and how to make the right decision around their home."